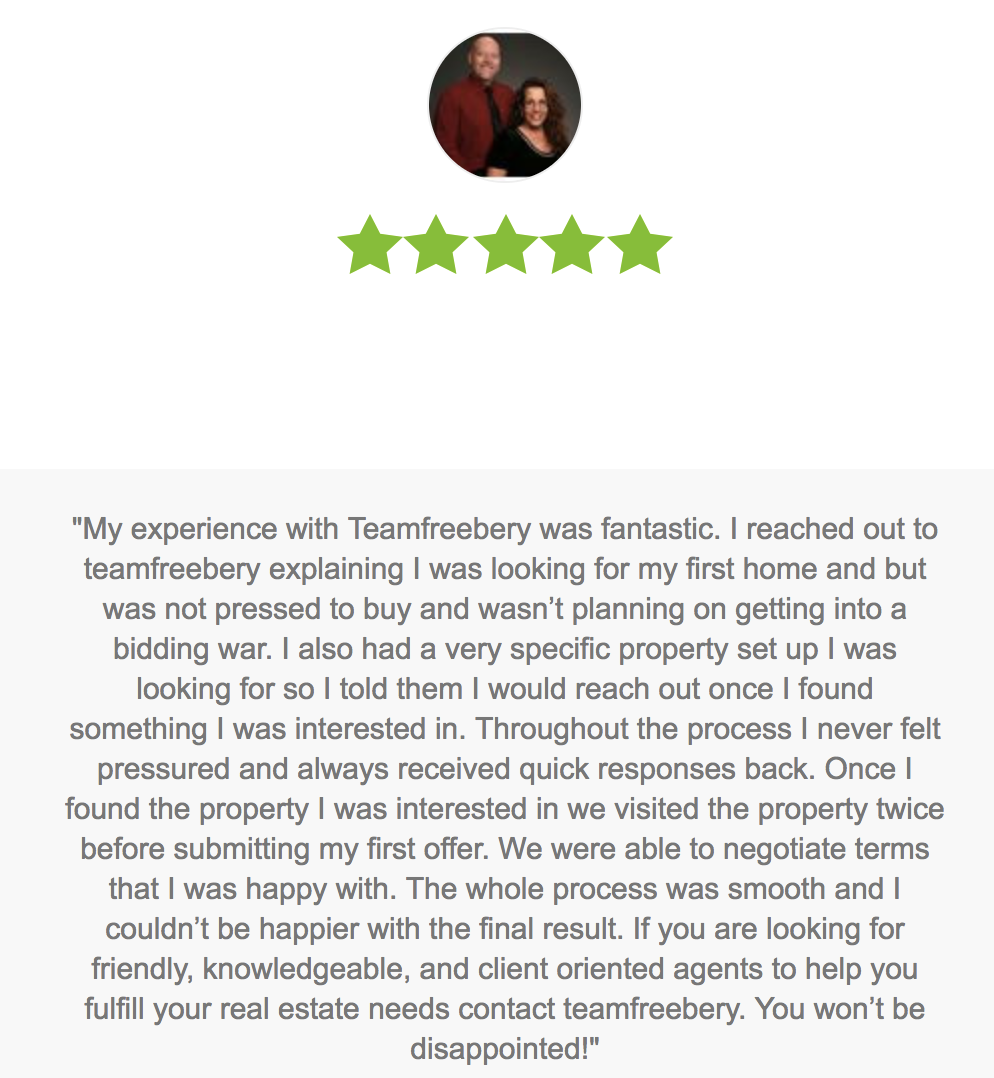 Knowledge & Experience Are In The Numbers
Over 15 Years Experience
5 Star Award Year After Year!

2021 – So Far Over 50 Transactions, Over $15 Million In Sales!
2020 – So Far Over 73 Transactions, Over $20 Million In Sales!
2019 & 2018 Over 180 Transactions, $45 Million In Sales
Approaching 1,000 Transactions – Over $175 Million In Sales
Ranked In The Top 1.0% Of Producing Agents

Have Always Been A Top Producing Team!

Click here to view more awards

Click here to view Team Freebery Reviews

Are You Ready To Start Looking For A Home? Why waste your time searching tons of websites, which could have outdated information about homes and home prices? If you are ready to buy a home, starting to look or just curious about how the process works below are some tips for you from Team Freebery. Click Here To View Our Buyer Service Commitment

Get Started With A Couple Easy Steps

1. Get pre-approved – Getting pre-approved is always the first step in the process. We have a great lender for you. Just send us an email snk@teamfreebery.com and we will send you the lender's contact information.

2. Get your home search set up and start receiving properties via email immediately!

Team Freebery offers:
Over 15 Years Of Experience
Friendly & Personable Service
Always Working At Your Pace
Full Coverage Search & Marketing Plans For Buyers & Sellers
Experienced & Knowledgeable
Have Always Been Top Performers In The Industry
Over 30 Years Of Marketing & Advertising Experience
Marketing Degree
Well Respected Amongst Other Agents
Well Connected To Many Trusted Vendors
Readily Available Via Cell Phone & Email Day Or Night
Helpful Tips & Advice To Help Minimize The Stress Of Buying Or Selling A Home
Stay In Touch AFTER The Sale/Purchase, Offering The Resources You May Need
It does not matter if you are just looking or ready to make a decision we work at your pace and are ready when you are. We have a great tool to help you find your next home. It's EASY and FREE! Here's what you'll get FREE:
Full access to thousands of home listings
Email alerts for homes in your area
Personalized service
Faster searching with saved searches
Ability to save homes you like
Much more!
Get started TODAY! Call or text Steve 302-420-8606 or Karen 302-530-0387 to set up an appointment today! We look forward to working with you!
Copyright © 2021 Team Freebery