Team Freebery Awards
___________________
7/2023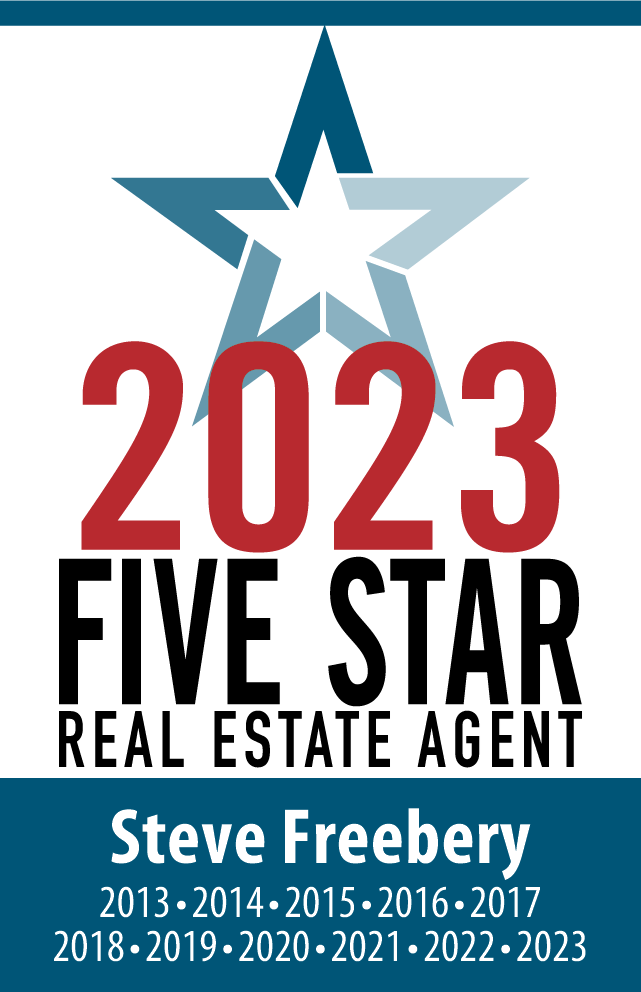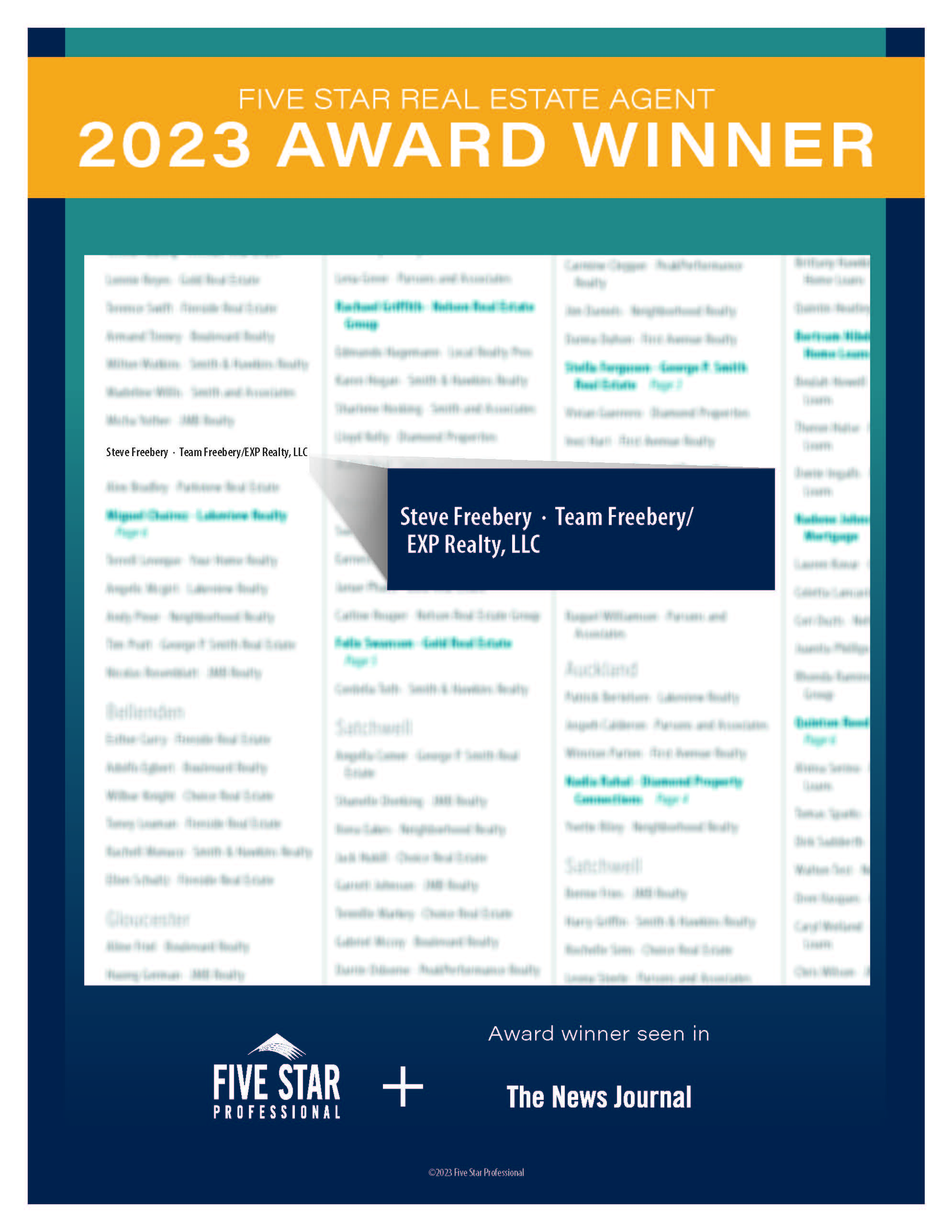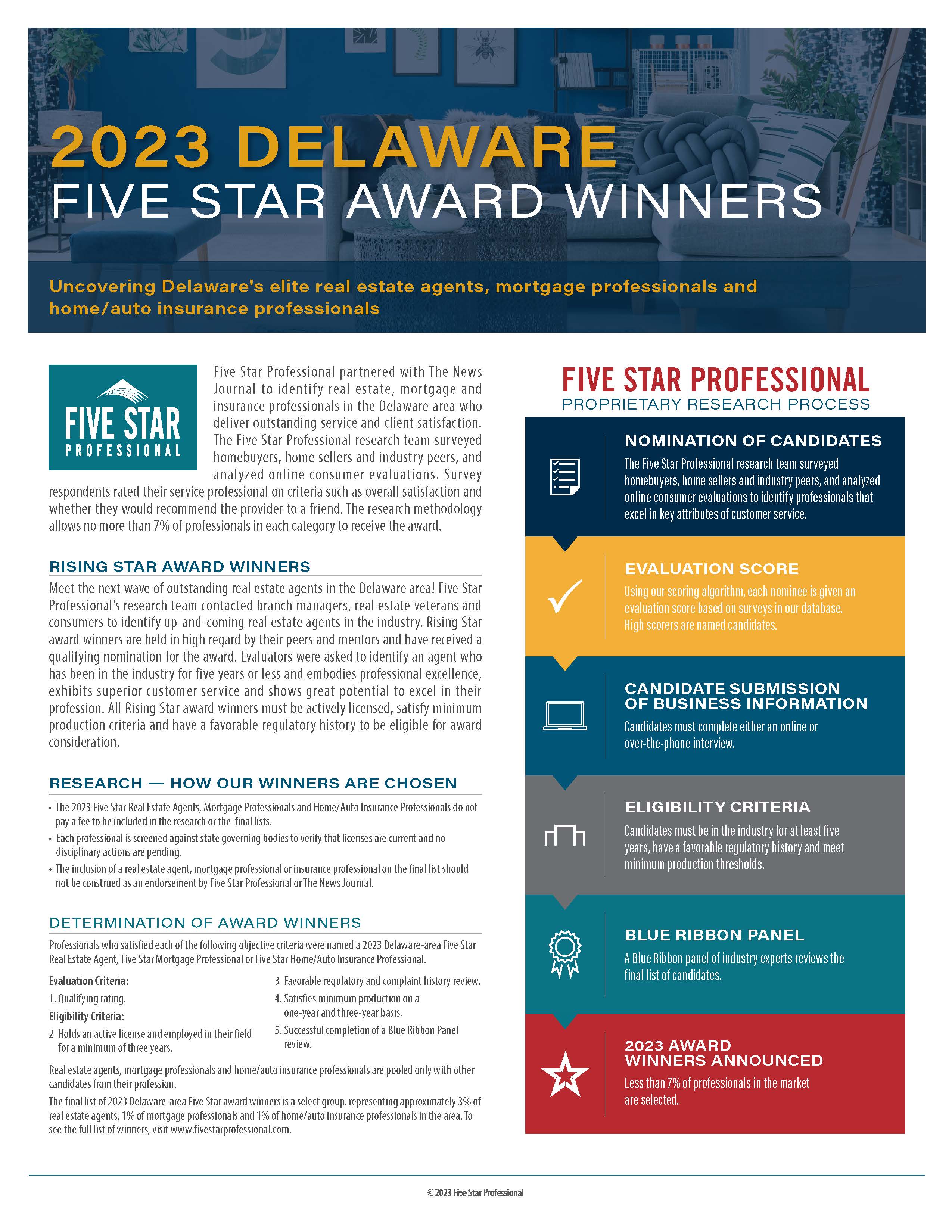 1/2023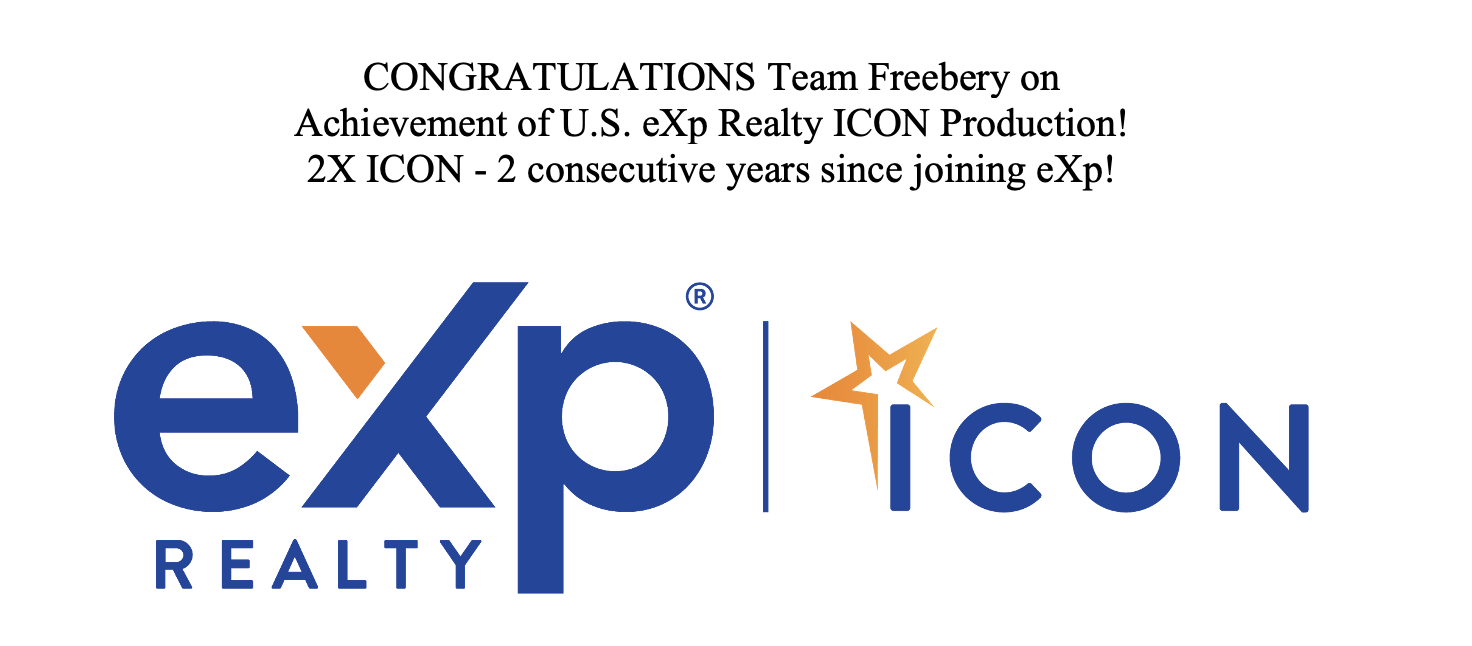 ___________________
8/15/2022 - Great news for Team Freebery in regards to being a Five Star Professional for over 10 years! "…..your appearance in our Forbes Five Star Legends section. The appearance will be in the October/November issue of Forbes magazine, with only Five Star winners with 10 or more years of receiving the award. This is very exclusive!"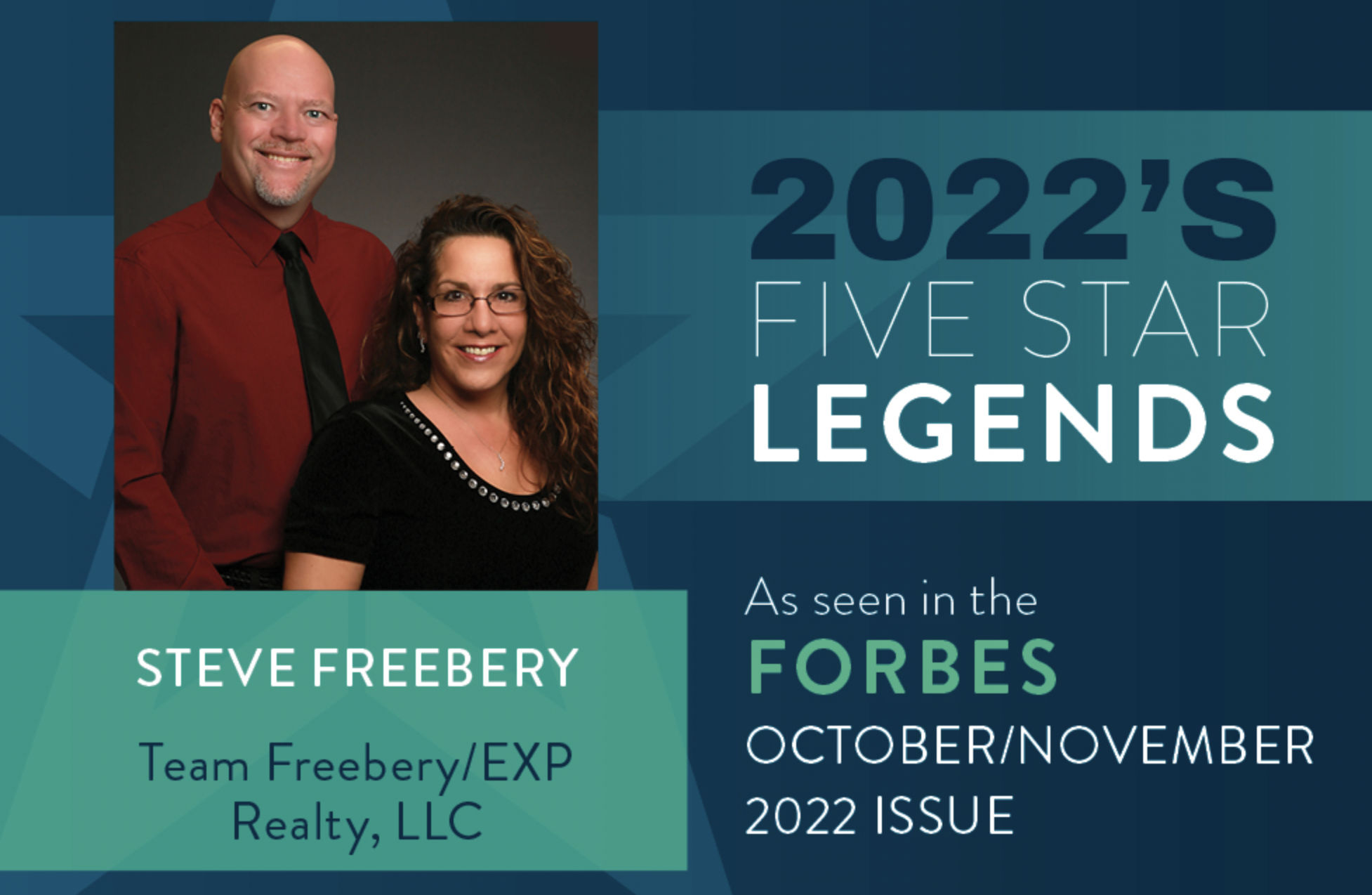 ___________________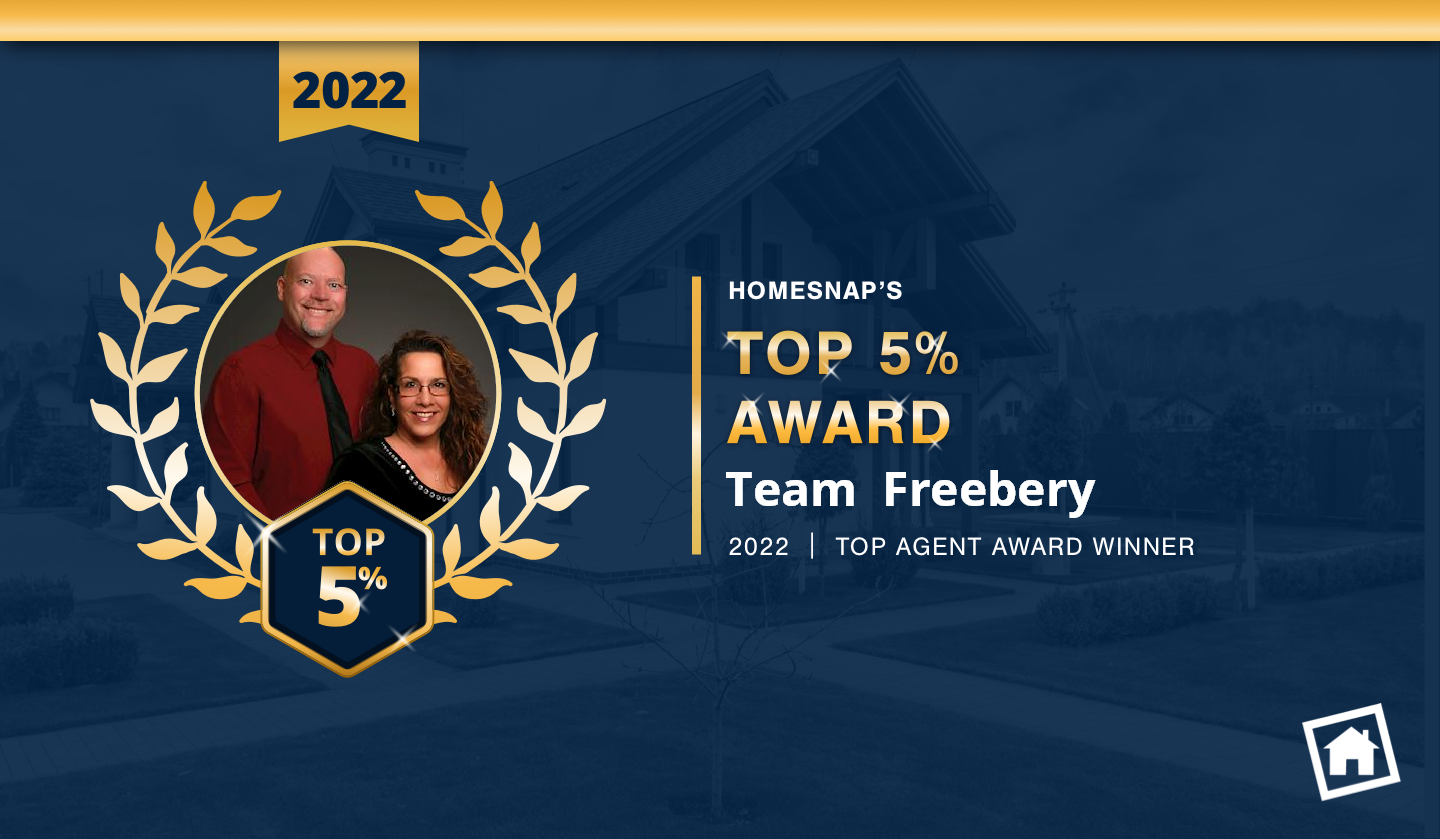 ___________________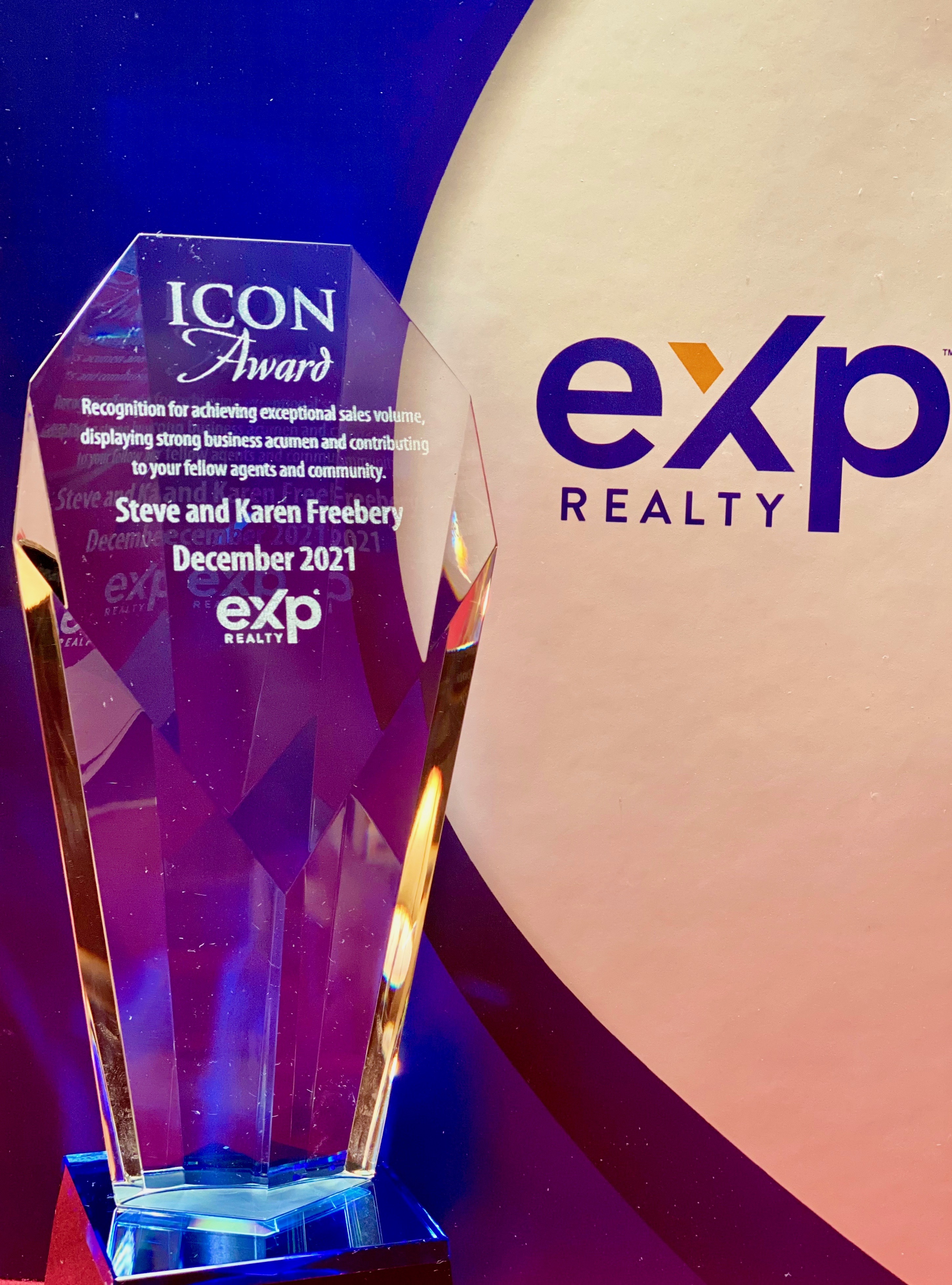 ___________________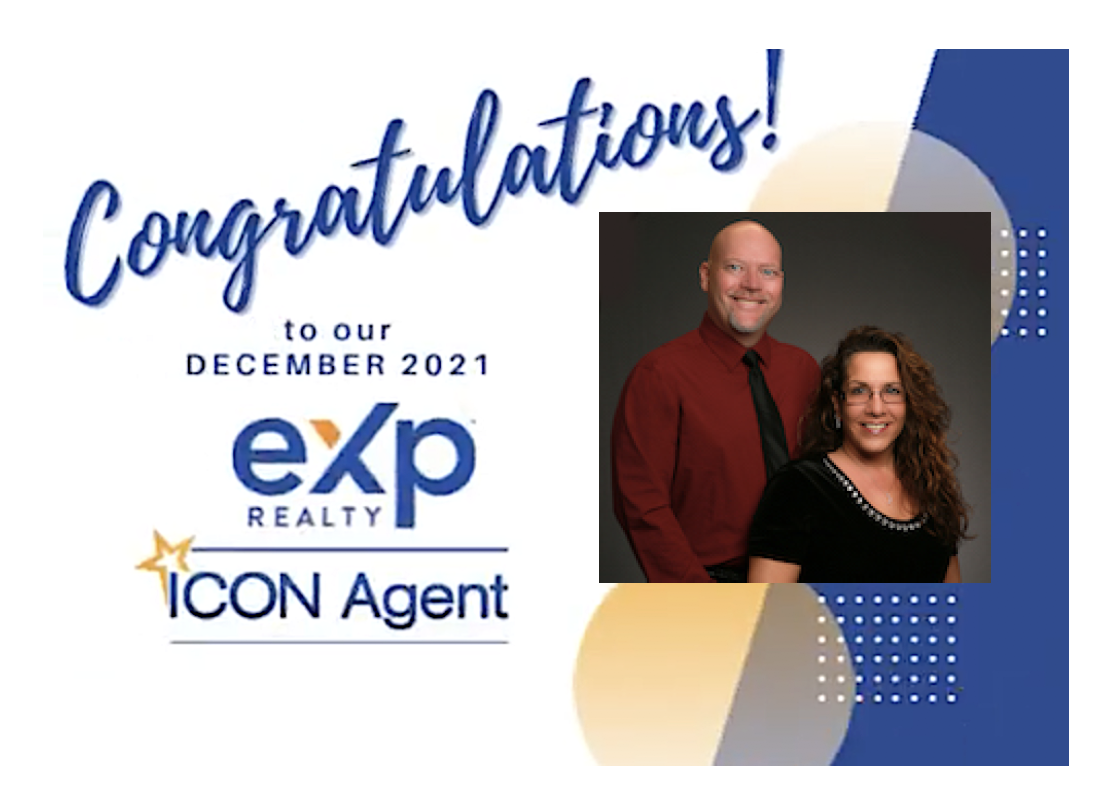 ___________________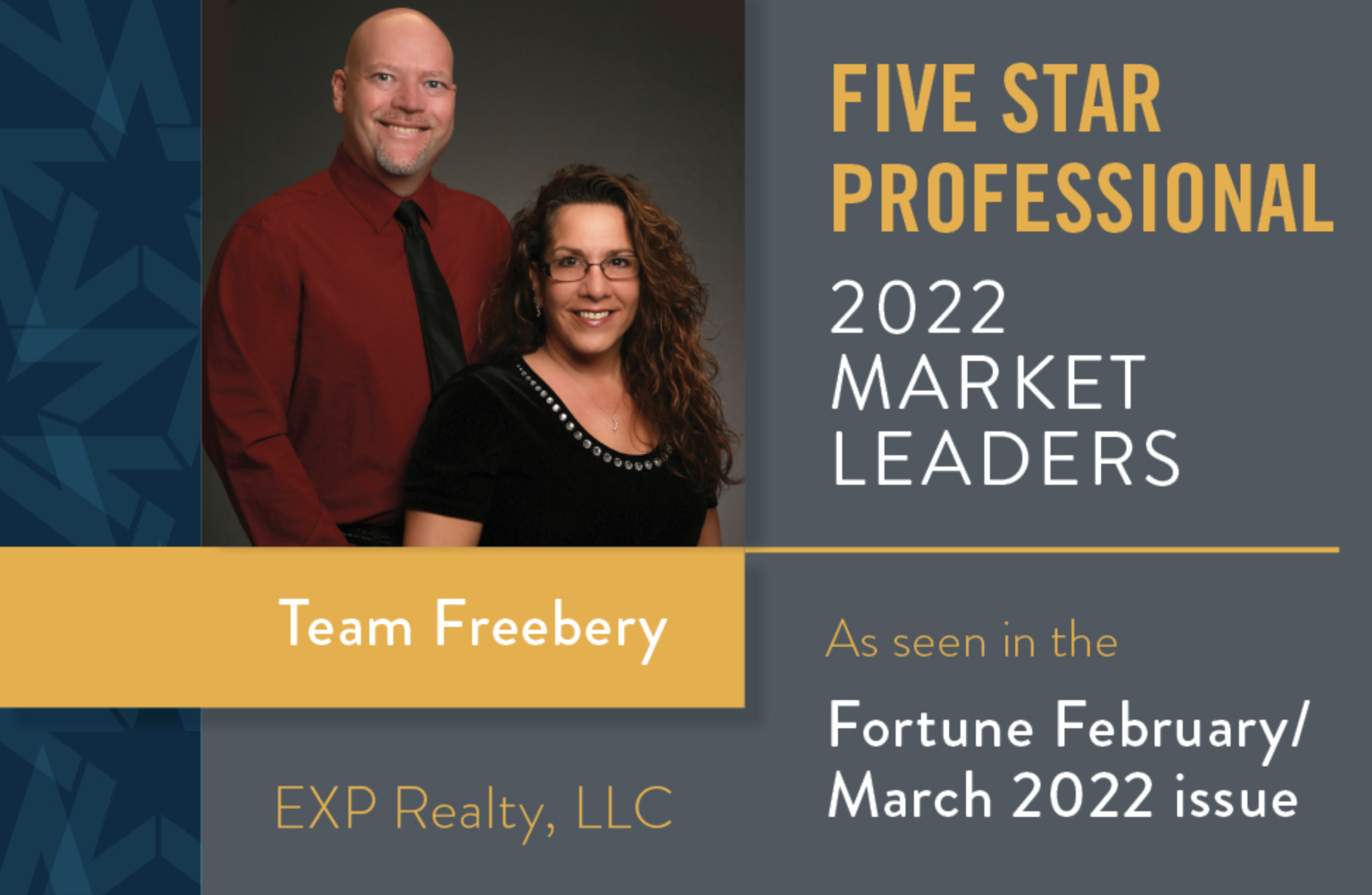 ___________________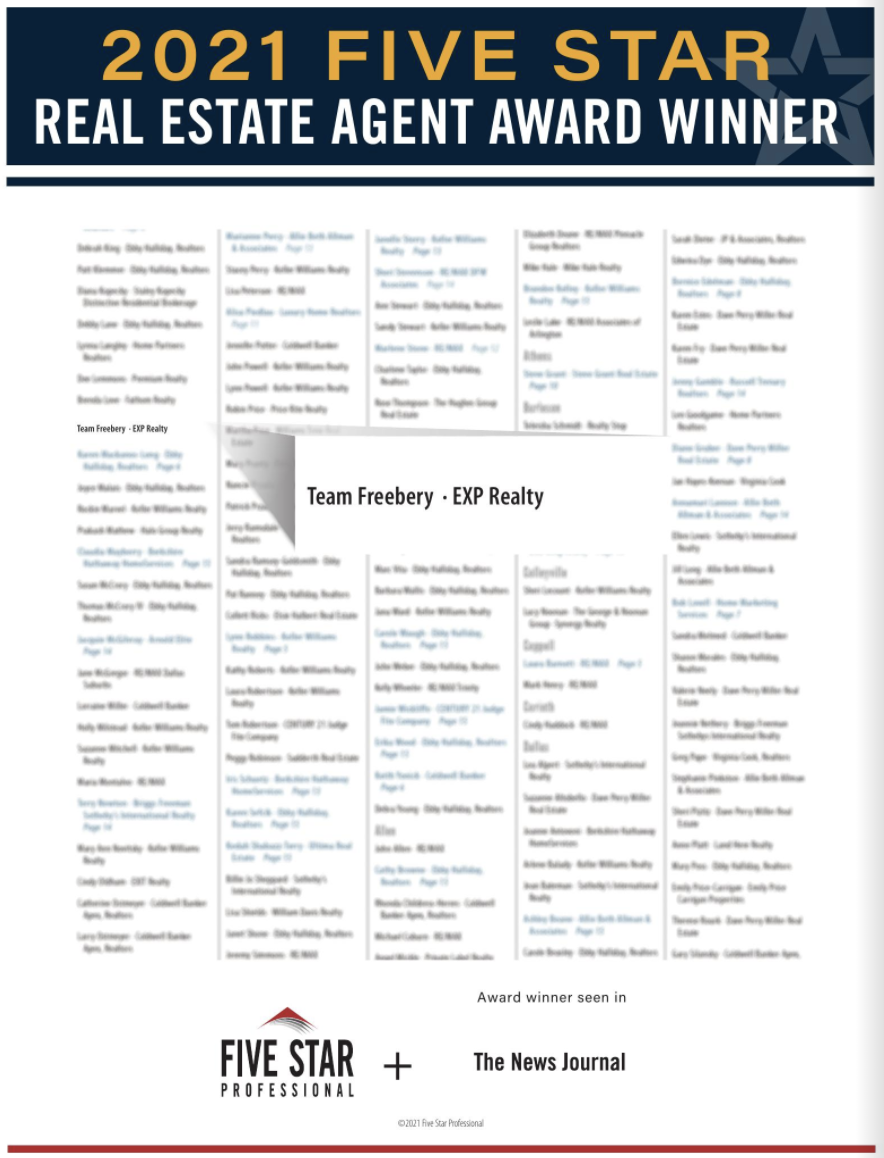 ___________________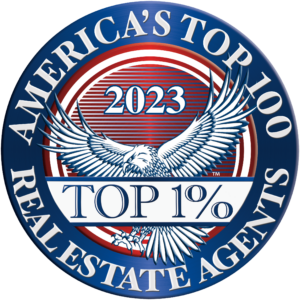 ___________________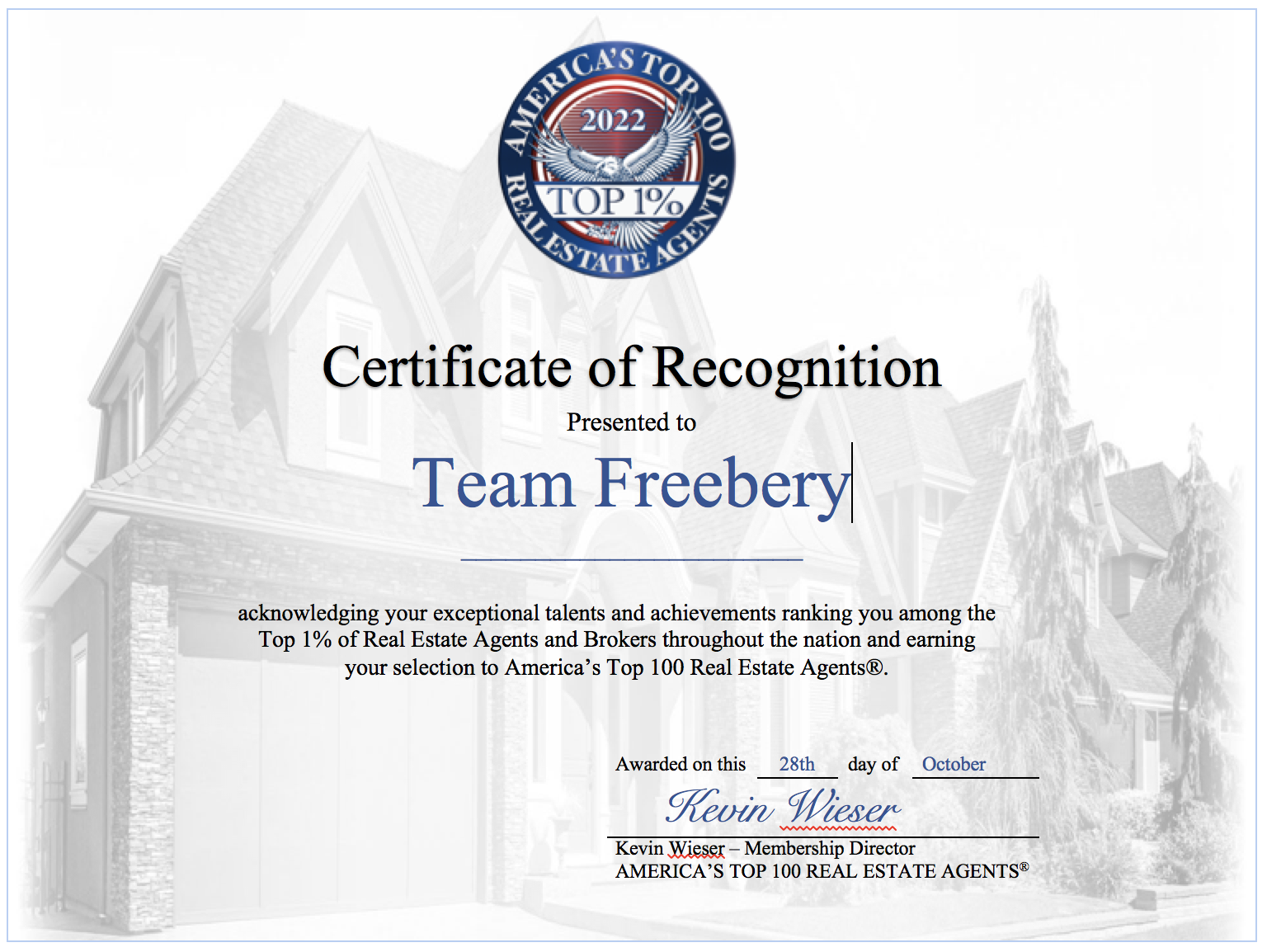 ___________________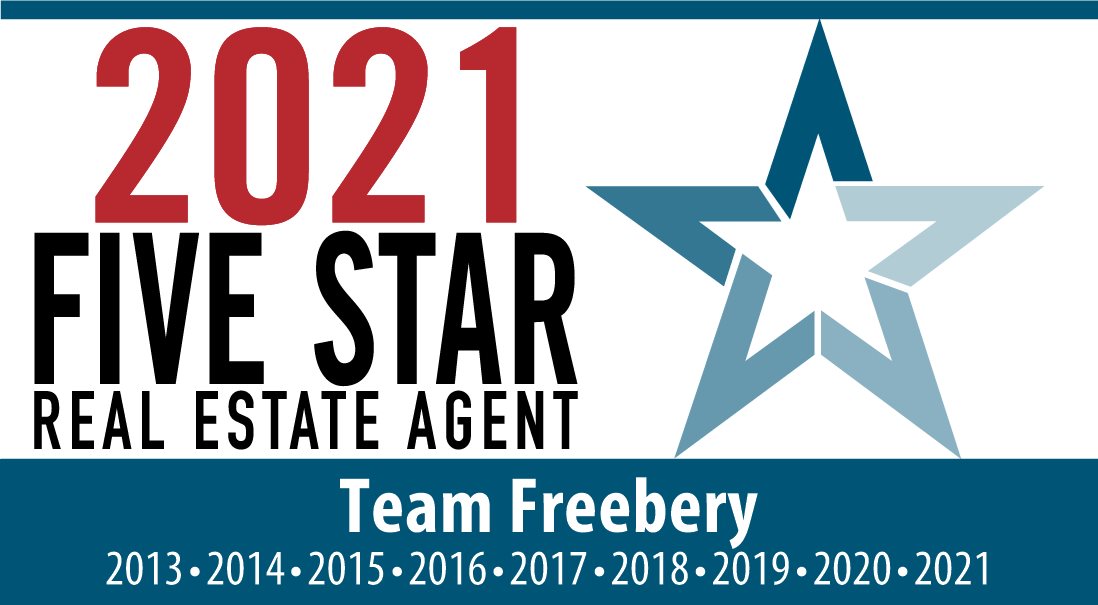 ___________________

Team Freebery was in Fortune Magazine 2/2022, 4/2021, plus more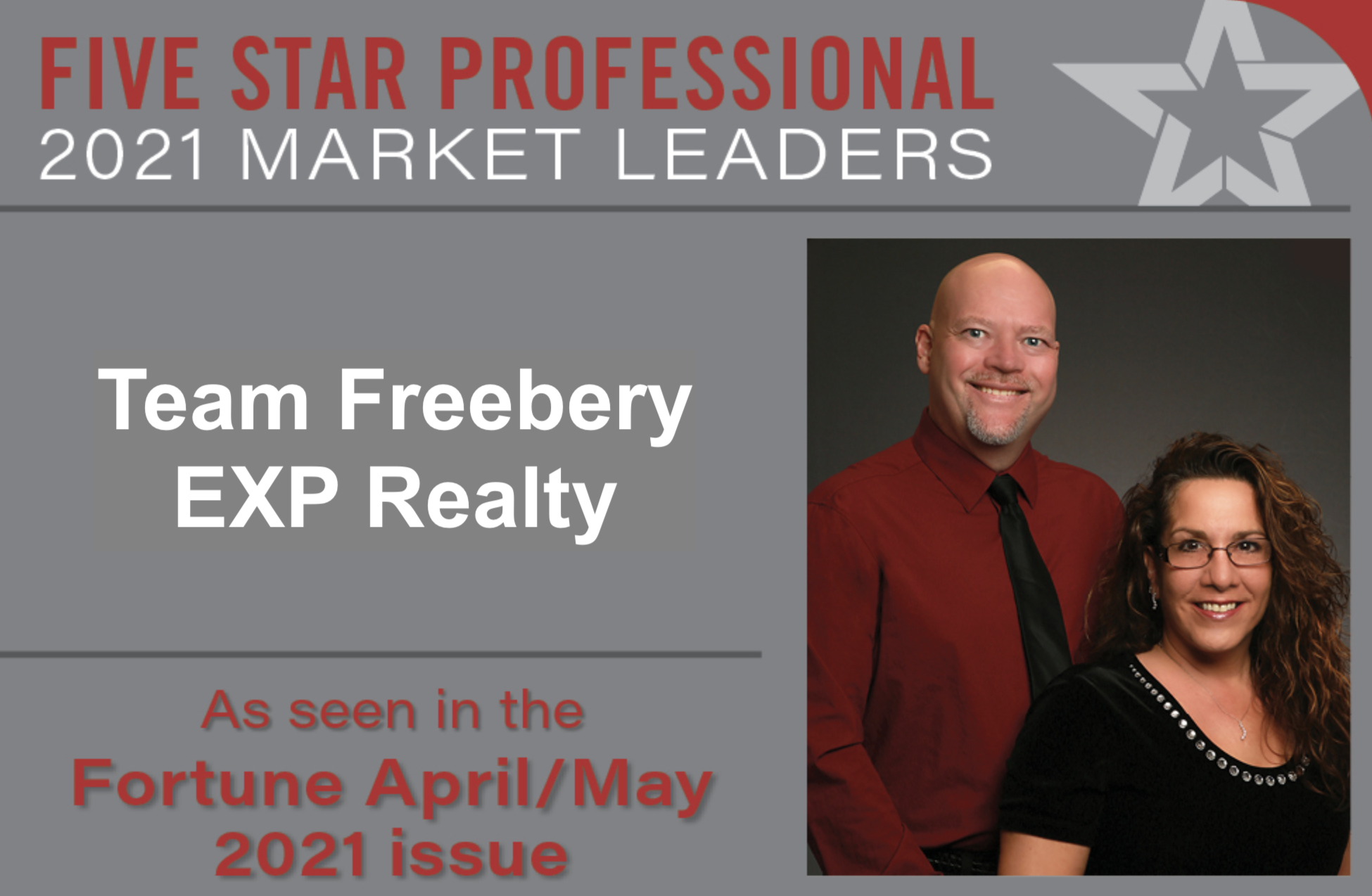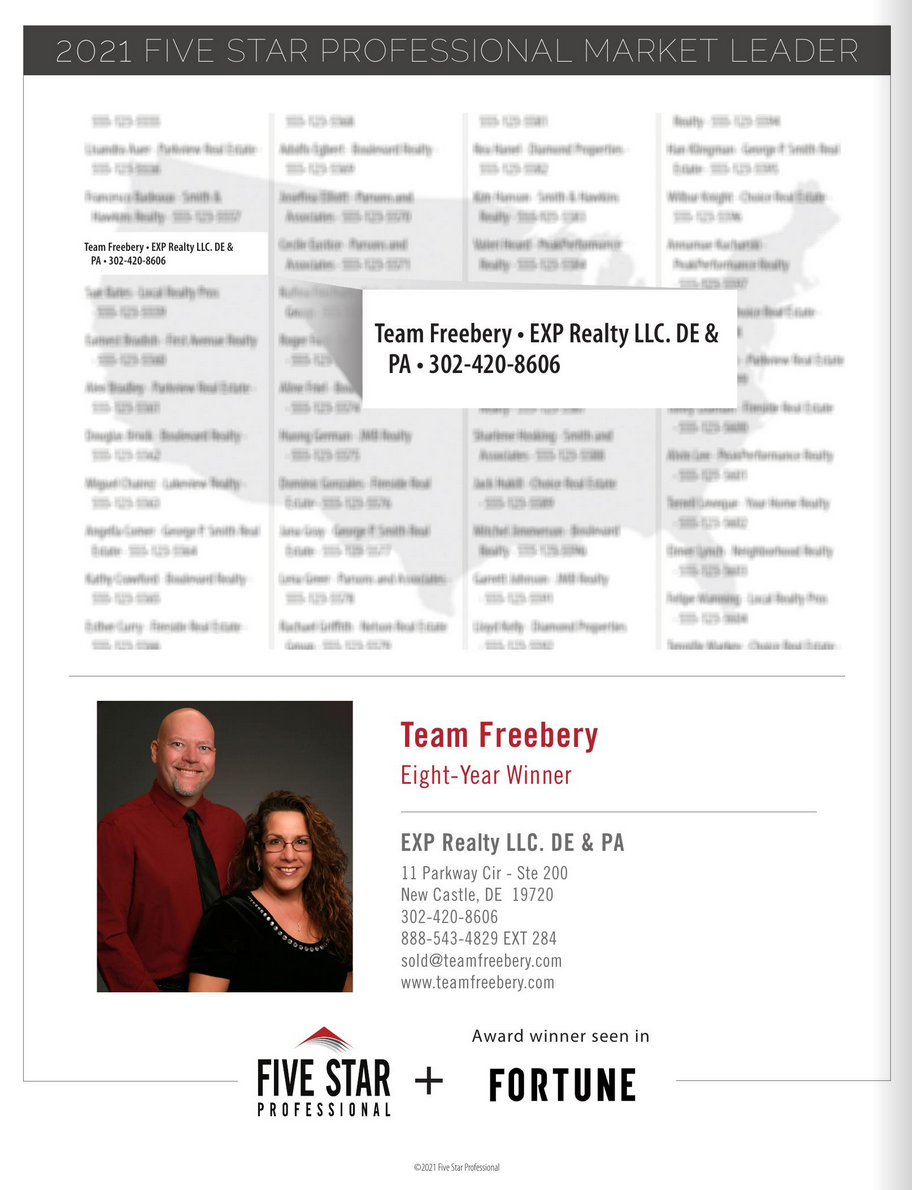 ___________________
Team Freebery was #2 in 2020 with $20,336,273 in sales and #2 in December with $2,286,400 in sales. Thanks to all of our clients, those who refer business to us, our contractors, lenders and attorneys.
Thank you all so so much!
___________________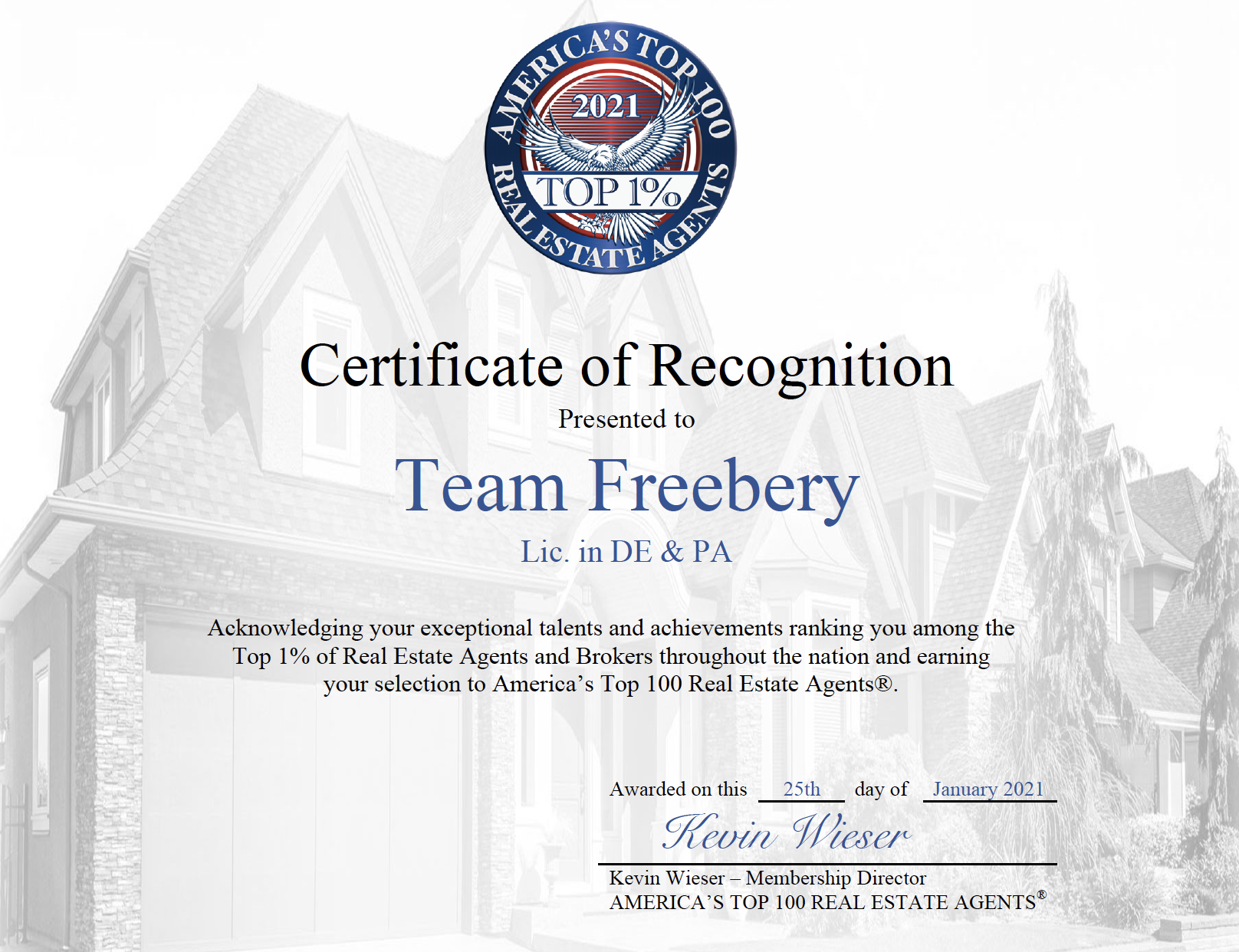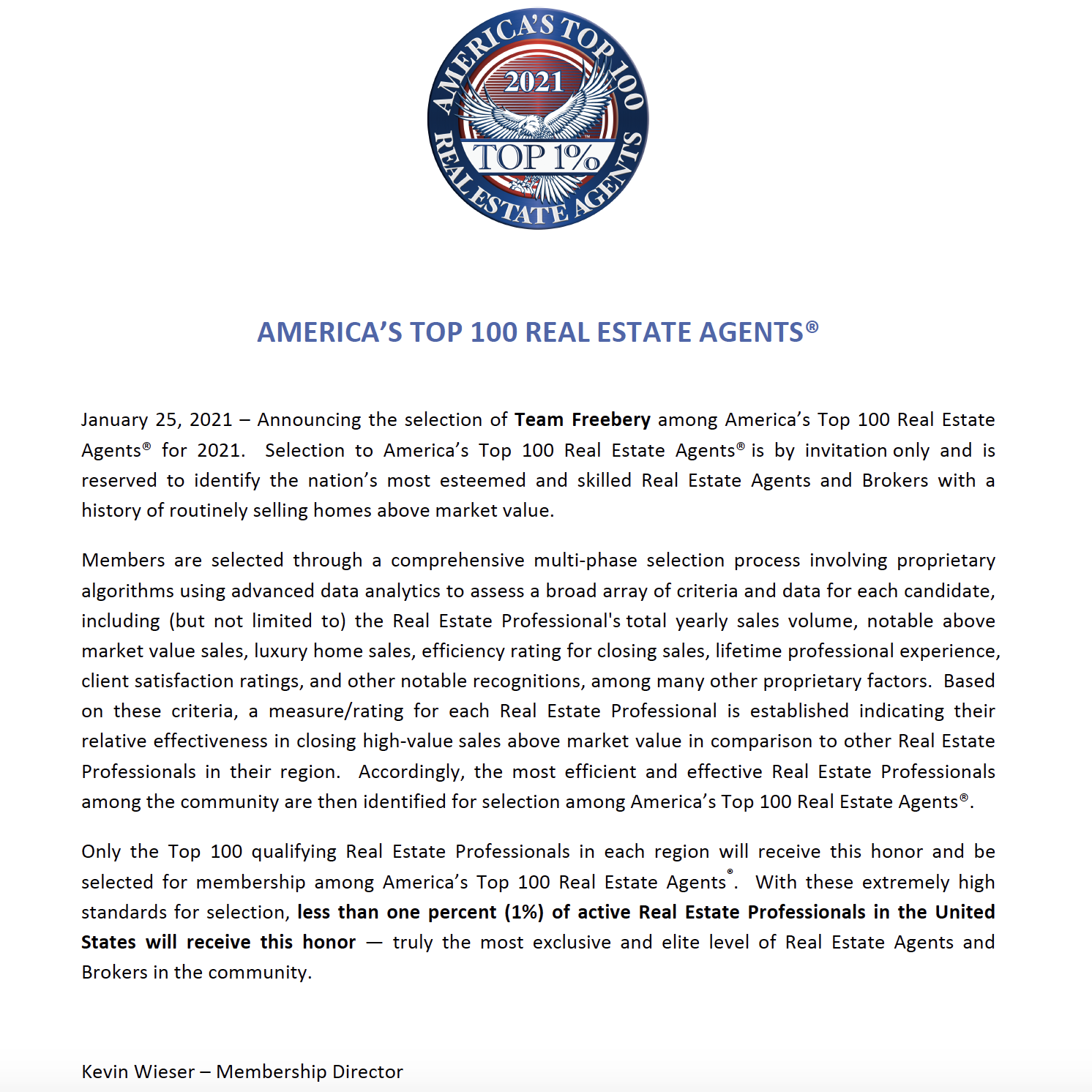 ___________________
Freebery-Forbes-February - Team Freebery has done it again! Team Freebery will be featured in Forbes Magazine 2/2020. Thank all of all you for your support, business and referrals over the years. We could not have accomplished our goals without all of our supporters, clients and those who refer us business. You are the best! Let's go 2020! #teamfreeberyforbes #teamfreeberysells
__________________________________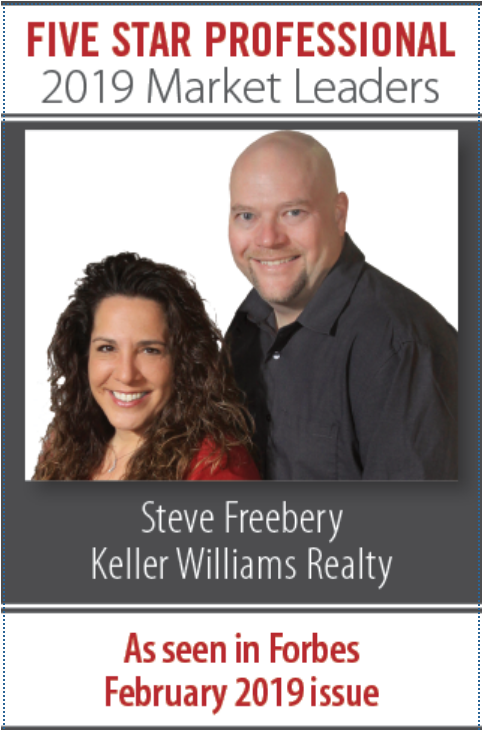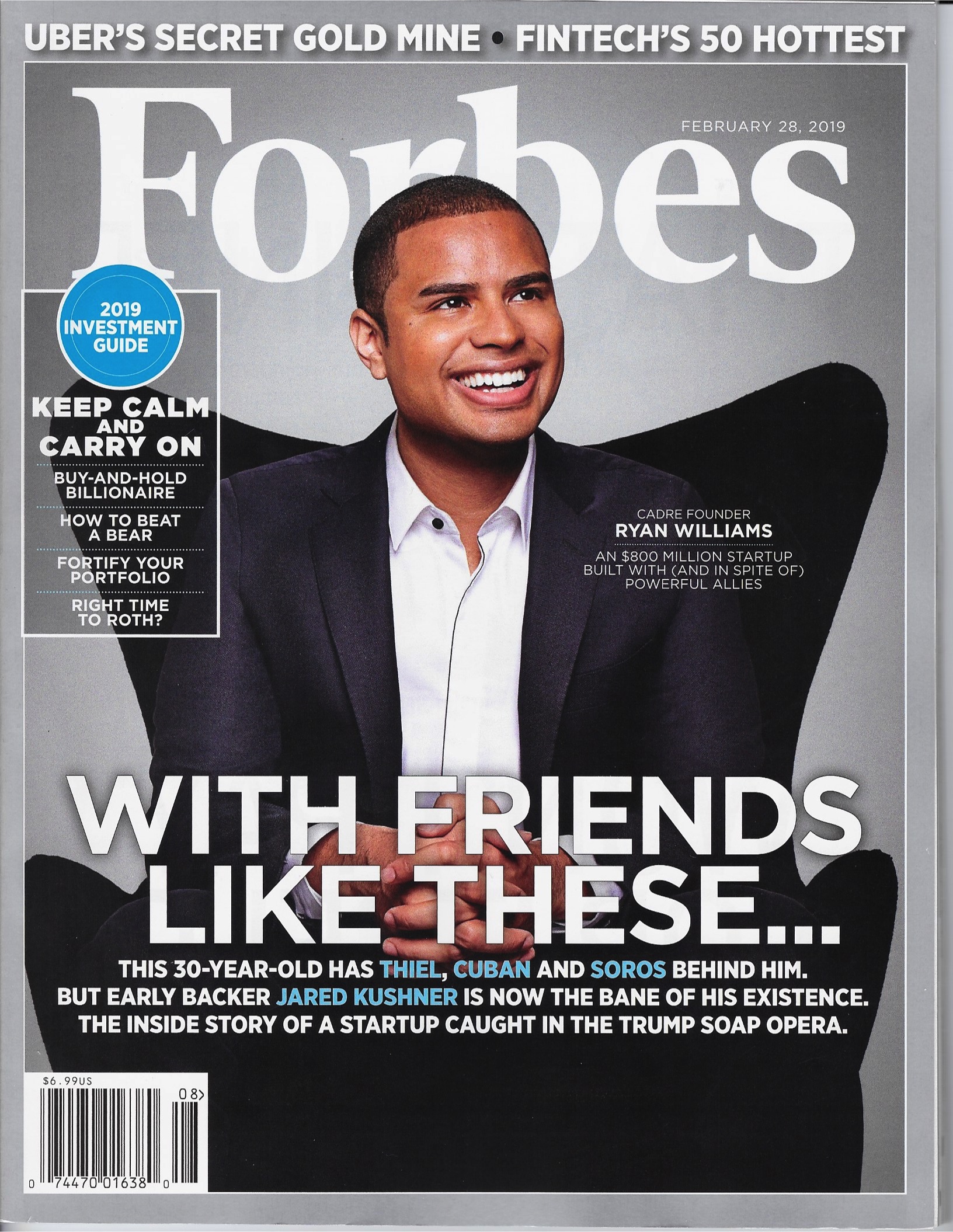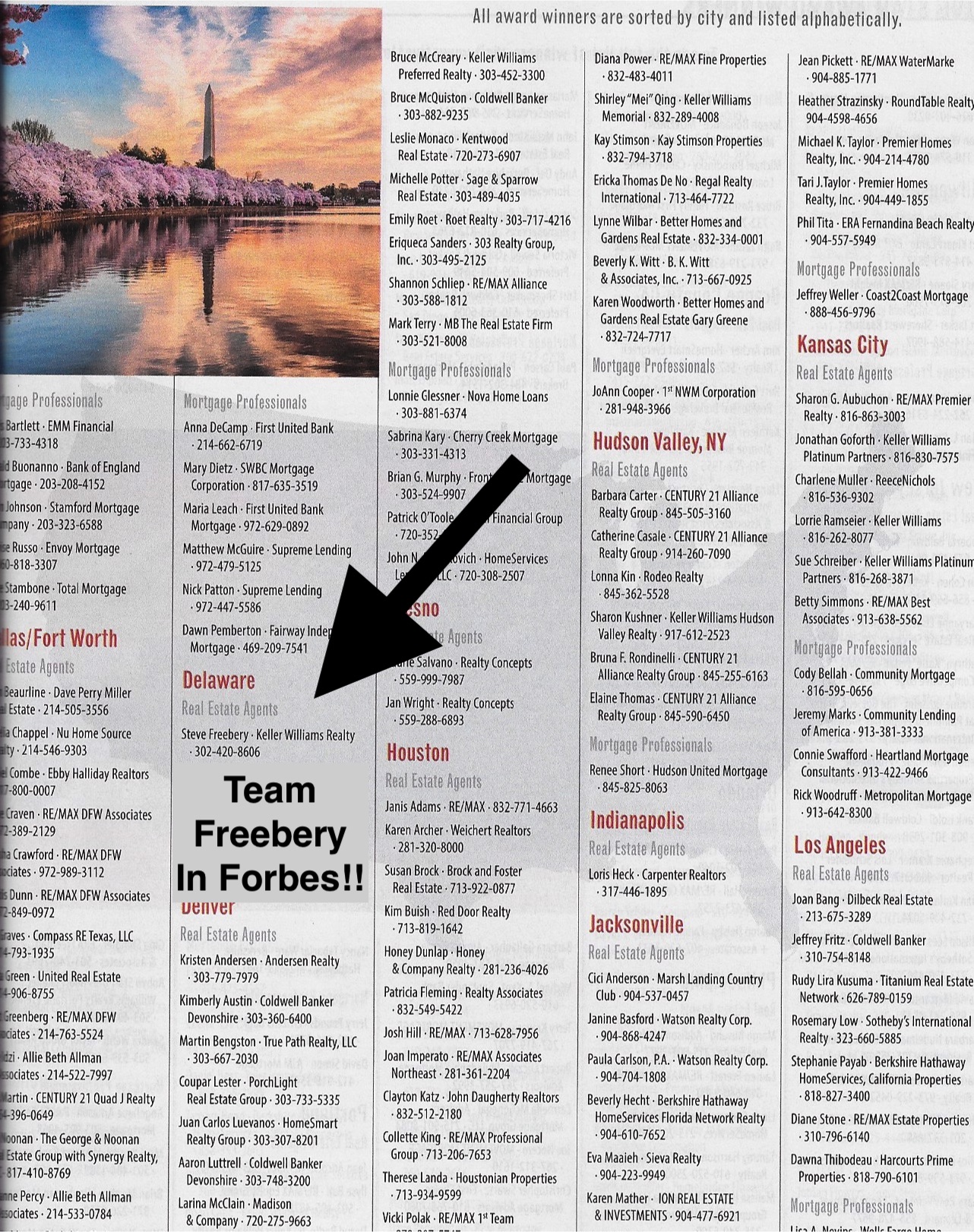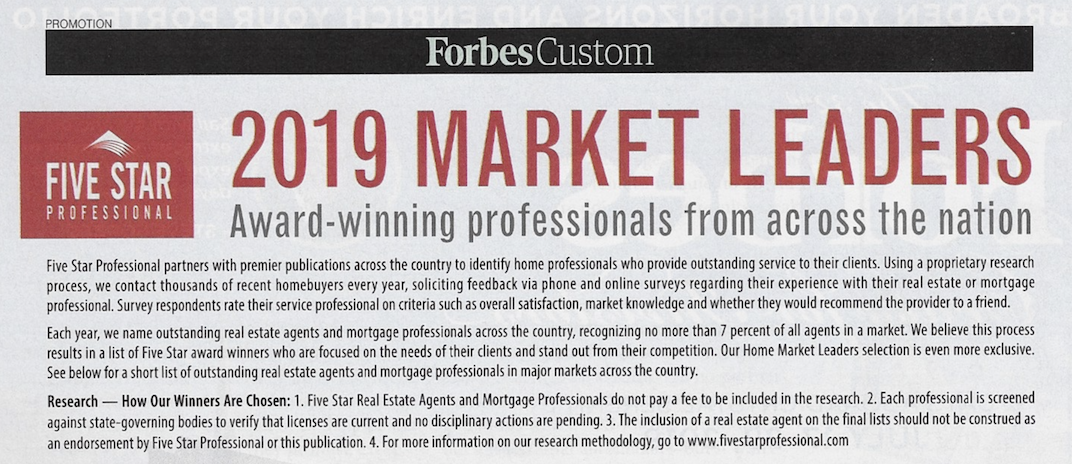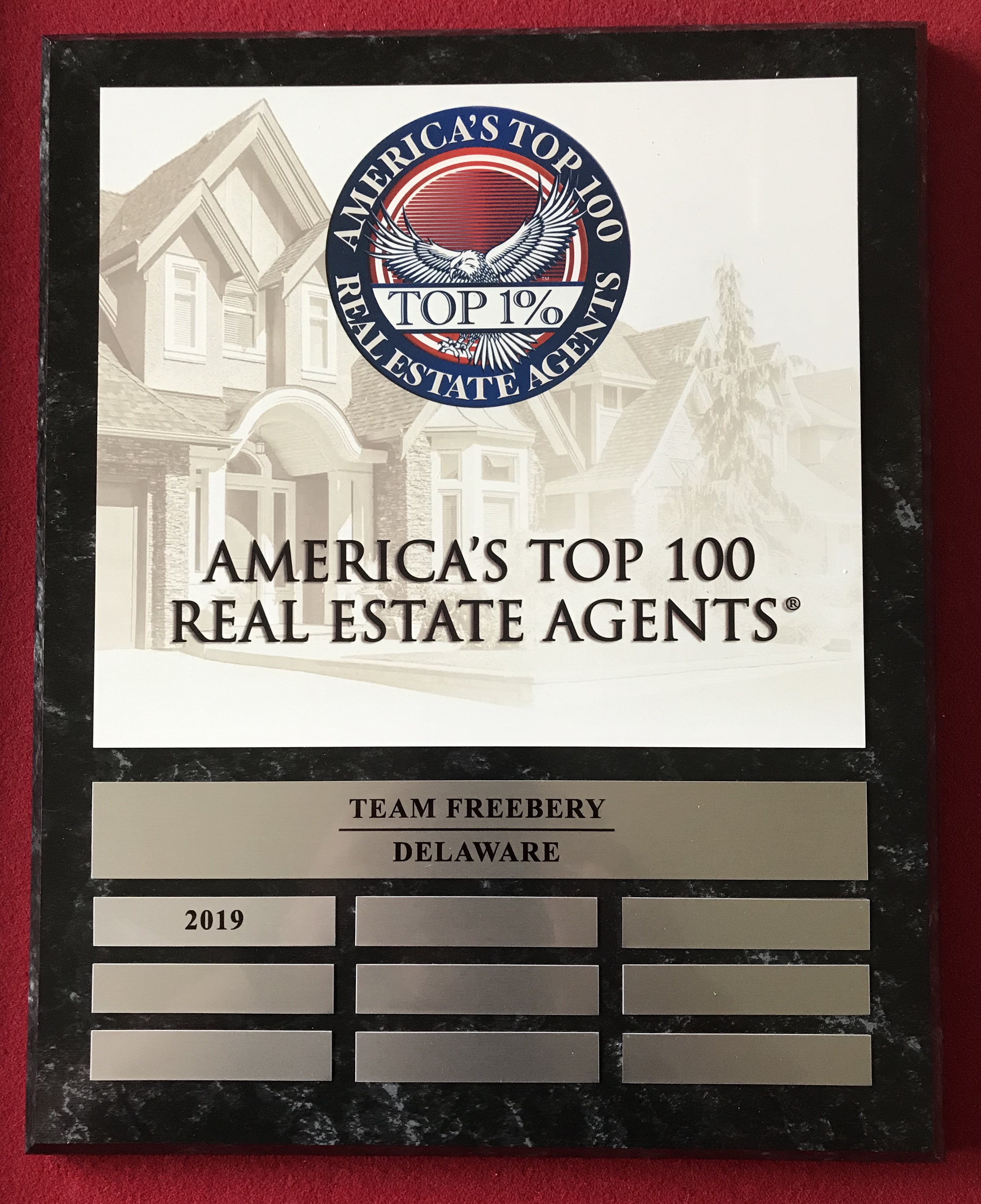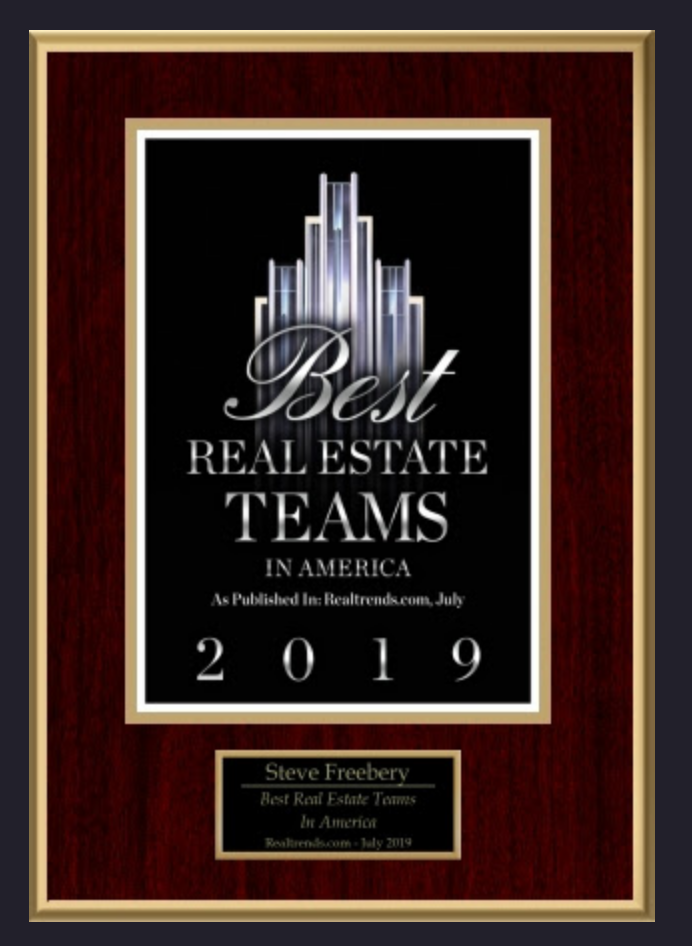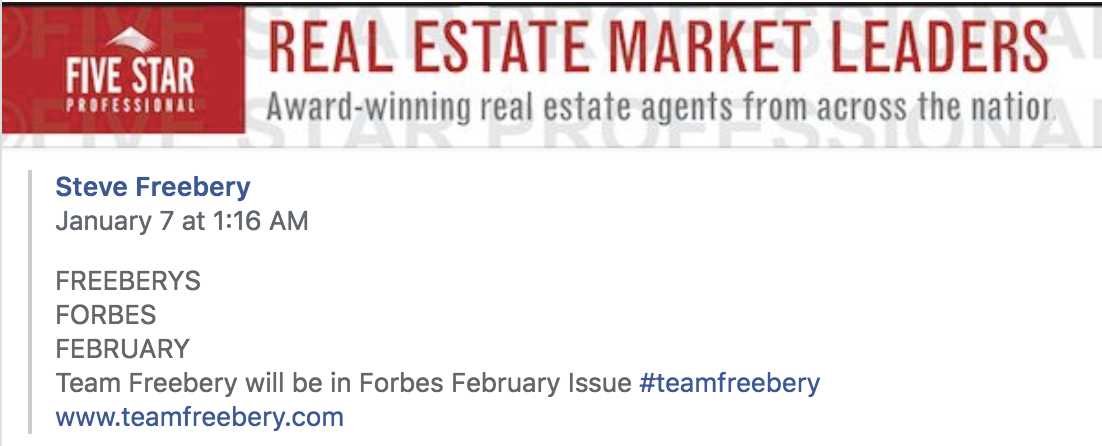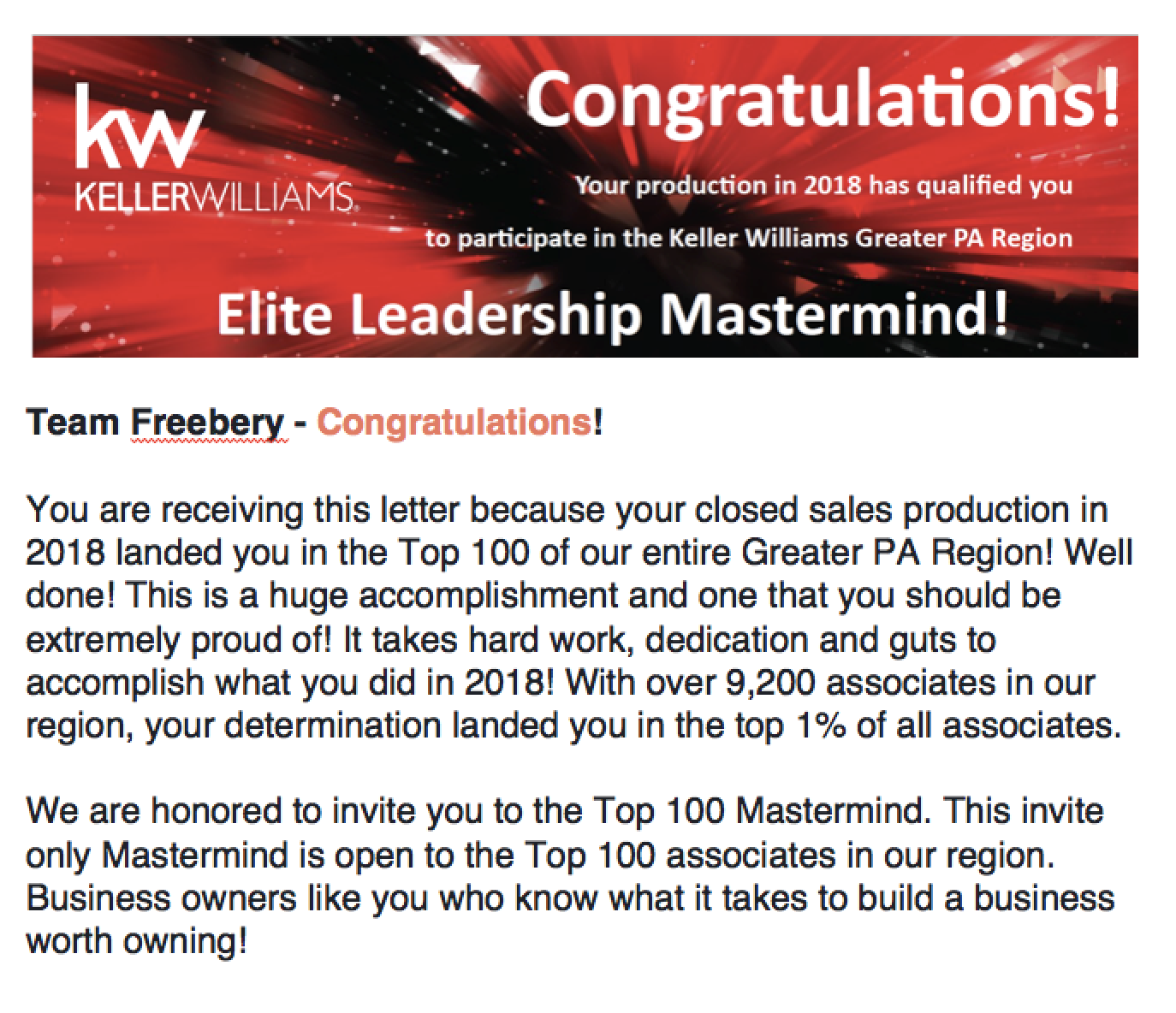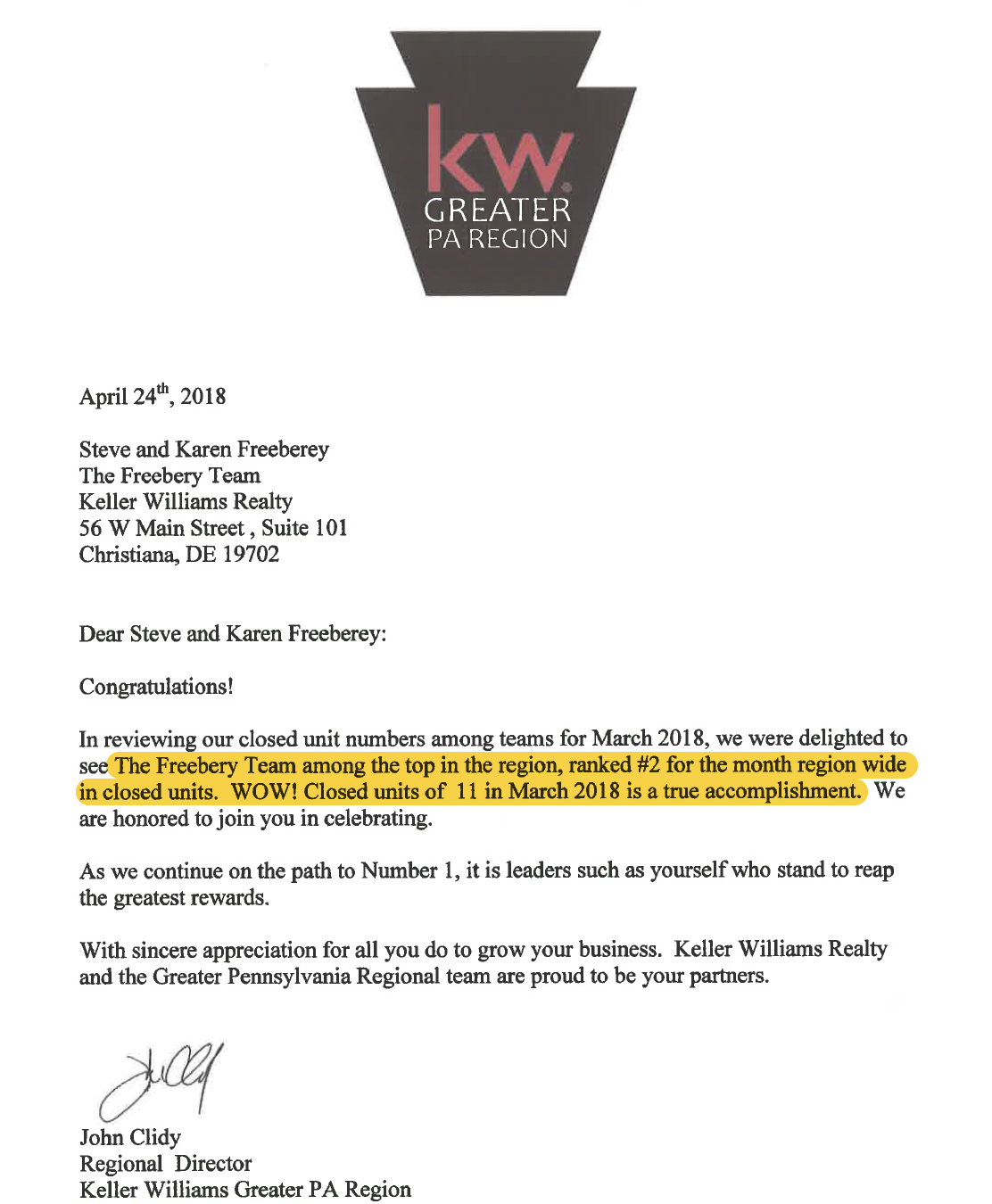 _________________________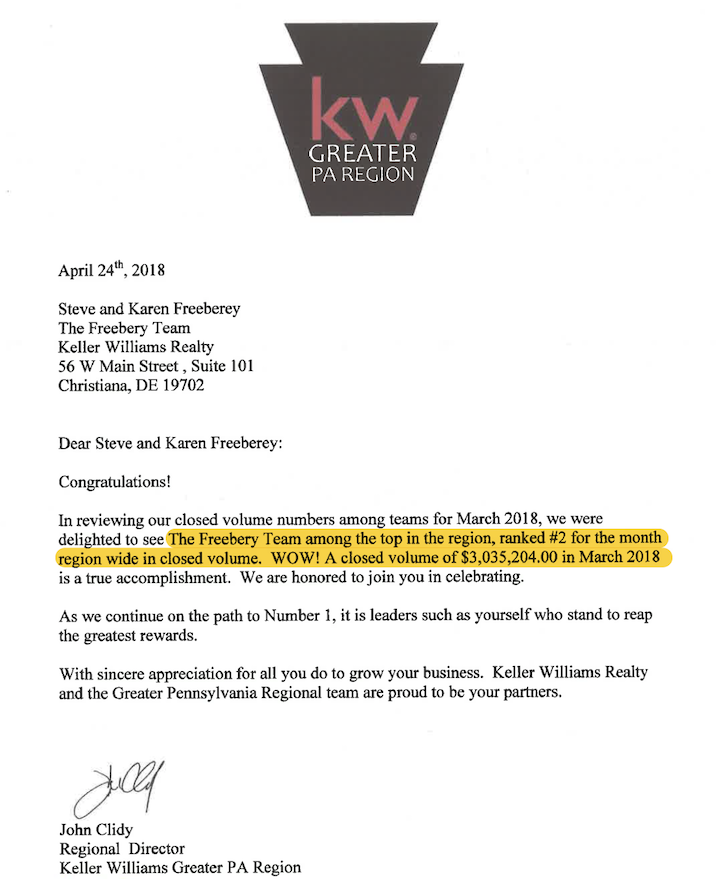 Team Freebery's 2018 Awards
___________________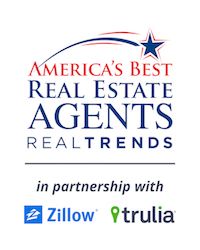 Team Freebery was named to the 2018 REAL Trends America's Best Real Estate Agents.
7/10/2018 Team Freebery of Keller Williams Realty was named one of America's most productive sales associates as a part of REAL Trends America's Best Real Estate Agents, the newly issued ranking report produced by REAL Trends and sponsored by Zillow Group. Team Freebery is now a member of the "America's Best Real Estate Agents".
REAL Trends America's Best Real Estate Agents ranks over 12,600 residential real estate professionals solely based on their excellence in real estate sales during calendar year 2016. All production numbers are independently verified by a third-party in order to ensure accuracy and report integrity. "This group of highly successful real estate sales agents represents less than 1 percent of all real estate practitioners in the United States," says Steve Murray, publisher of REAL Trends America's Best Real Estate Agents and president of REAL Trends.
To qualify for inclusion, an individual agent must have closed at least 50 transaction sides or $20 million in sales volume in 2016. For real estate agent teams, the minimum is 75 transaction sides or $30 million in closed sales volume. The individuals ranked in America's Best Real Estate Agents had an average of 73 transaction sides and an average sales volume of almost $37 million. Teams ranked in America's Best Real Estate Agents had an average of 144 sides and an average sales volume of almost $61 million. This ensures that only the best of the best are included on the prestigious list.
"The average residential real estate agent in the United States closed 8.6 transaction in 2016 and had less than $1.3 million in sales," said Murray. "To say that Team Freebery is an exceptional and professional sales team is an understatement. To attain this level of sales is truly outstanding."
"We are also pleased that two of the nation's most prominent online real estate websites, Trulia® and Zillow®, have partnered with REAL Trends to bring a superior level of customer exposure of these sales agents' performance," Murray added.
"We are obviously pleased and honored to be ranked on this ranking of the country's top residential real estate agents," said Team Freebery," It represents the time and effort that we put into each customer that we serve and how much work it takes to build a successful real estate career. The level of sales it takes to qualify makes it a truly special recognition."
ABOUT REAL TRENDS
REAL Trends is a privately-held, Colorado-based publishing, consulting and communications company specializing in the residential brokerage and housing industries. Recognized as the leading source of trends in the industry, REAL Trends, The Trusted Source, also publishes the REAL Trends The Thousand, as advertised in The Wall Street Journal and the REAL Trends 500, which ranks the top brokerage firms in the United States. Visit REAL Trends at www.realtrends.com <http:// <http:> <http:> www.realtrends.com/> . Zillow is a registered trademark of Zillow, Inc. Trulia is a registered trademark of Trulia, LLC. These marks are used with permission.
____________________
PROFESSIONAL EXCELLENCE

Five Star Professional conducts market-specific research throughout the U.S. to identify service professionals who demonstrate professional excellence and provide quality services to their clients. The Five Star Real Estate Agent program is the largest and most widely published award program for real estate agents in North America, covering more than 40 major markets. Five Star award winners do not pay a fee to be included in the research or on the final list of award winners.

The Five Star Professional research team contacted thousands of recent homebuyers, consumers and industry leaders to identify Delaware-area real estate agents who stand out in their industry and community.
____________________
"The Thousand"
The Wall Street Journal

2017 - Email to Team Freebery:
REAL Trends is starting to compile "The Thousand" – its annual ranking of the top real estate agents and teams in America. The list will be published in The Wall Street Journal on Friday, June 23, 2017.
Last year, we were thrilled to have more than 100 representatives on the list. And, given your record productivity gains in 2016, we're looking forward to an even stronger performance from our top agents and teams this year.
Our records show that your production qualifies you to be submitted for these rankings! As a service to our associates and to thank you for a phenomenal year......
____________________