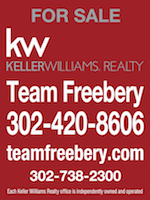 You Want It SOLD? We Will Sell It!
You Want To BUY? We Will Help You Find It!
Our marketing and sales strategies are kept confidential for competition reasons. However, when meeting with you, we will reveal our marketing / advertising strategies plus much more. When we meet with you we will go through the details of presentation, our experience, the process of selling and our Aggressive 50+ Marketing Plan. There is a great deal to discuss but once again we can't give away our secrets here.
Team Freebery, a top producing real estate team, has over 13 years of experience in selling/buying homes. They also have a very high success rate in contract negotiations, inspections and getting transactions closed.
When selling your home in today's market you need an aggressive, top producing real estate team with a high level of experience along with an aggressive marketing plan. Having a real estate team with a marketing degree, over 25 years of marketing / advertising experience plus having a strong technology background ensures your home will get the maximum exposure needed to sell quickly at the best price.
Knowledge & Experience Are In The Numbers
Over 13 Years Of Experience

5 Star Award Year After Year!
Over 225 Transactions In The Past 18 Months!
2019 – So Far Over 10 Transactions And 2.1 Million In Sales! 2018 – Over 100 Transactions And 25 Million In Sales!
2017 – Over 85 Transactions And 20.5 Million In Sales!
2016 – Over 90 Transactions And 18.5 Million In Sales!
2015 – Over 85 Transactions over 16.5 Million In Sales!
2014 & 2013 Over 28 Million In Sales
Previous Years Average 12 Million A Year In Sales
Ranked In The Top 1.0%
Out Of All New Castle County Agents &
Out Of All Keller Williams New Castle County
And Have Always Been A Top Producing Team!

Please contact us today for your FREE consultation. You can call or text Steve 302-420-8606 or Karen 302-530-0387. You can also email snk@teamfreebery.com.








Copyright © 2005-2019 Team Freebery